With so many cloth diapers to choose from, many of them having similar qualities and options, it's refreshing to find a diaper which is truly distinctive. The
Gro Baby
diaper certainly stands out from the sea of diapers out there!
I had planned on purchasing one of these nifty diapers but a wonderful and thoughtful friend sent me one as a gift. What a wonderful surprise! I was so excited to finally give this diaper a test wear!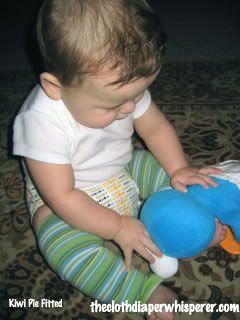 Since the organic cotton soakers had to be prepped, and I had no other items requiring prepping at the time, I decided to wait to wash the soakers and tested the "shell" by itself.
So, for the first couple weeks I used the
Gro Baby
shell as a diaper cover with my
Kiwi Pie Fitteds
(another wonderful Natural Baby Company product) and it worked phenomenally well.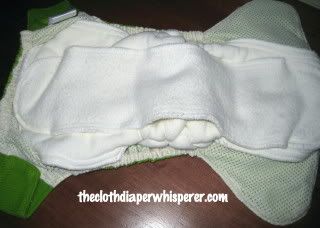 A couple weeks later I had finally collected enough items to go through the prepping process for the soakers. I was able to test the diaper as a whole once the soakers were fully prepped (after about 7 washes). I like how the elasticized insert allows itself it to fit on the smaller settings but stretching to fit the larger settings.
The
Gro Baby
is trim, super absorbent, soft and comfy! Yes, they are cut a tad on the small side for a one size diaper; so if your little one is in the higher end of the percentile for their height and weight, then it's possible this diaper
may not
fit until potty training (but most babies do start thinning out after 12 months when they begin walking… My little man is 6 months old and just over 19 pounds, and 28" long (90th percentile). He can wear the medium sized setting on the
Gro Baby
(I use the largest setting if I'm using it as a cover for the
Kiwi Pie Fitted
).
One of the best features about this diaper is the
"revolutionary"
soft loop closure. It doesn't rub/dig into the belly like some other diapers do… and since you're able to wrap the tabs over onto one another (in either direction) you can get just the right fit!
Additionally, these diapers will reduce a LOT of bulk from the diaper bag. No more stuffing 2-3 diapers into your not-so-cloth-diaper-friendly diaper bag… simply stuff a couple inserts and one additional shell into your bag and it takes up a lot less space!
I would LOVE to see these diapers offered in a larger variety of colors! The
Gro Baby
diaper is a wonderful staple for any cloth diaper stash.
Note:
As pictured, the kiwi color pairs well with the pair of
Phinney BabyLegs
!
-By Serena