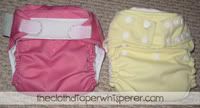 I began my fun journey into cloth diapering by purchasing three different brands of diapers to try before buying more. I purchased one
BumGenius 3.0
, one
Happy Heiny One-Size
, and a
Fuzzi Bunz
. From my research, I knew I wanted to start with pocket diapers and that one-size diapers would be the most economical. After testing these three diapers for almost a month, I then ordered 12
Bumgenius 3.0.
Recently, I added
two Baby Beehinds Bamboo fitteds
and a
Bummis SuperBrite cover
to my stash. This allows me to wash diapers every other day.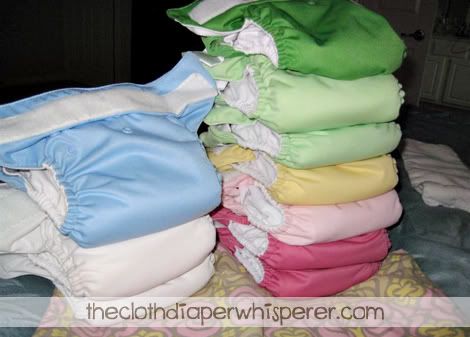 From our current stash, my favorite diaper is our
BG 3.0
in Zinnia. I just find it to be so cute on my daughter. We only have two Zinnia diapers because I wanted most of the others to be gender neutral. Here's a photo of her wearing it...doesn't she even look happy? I like the
BG 3.0
because they are one-size and the quality on them is great.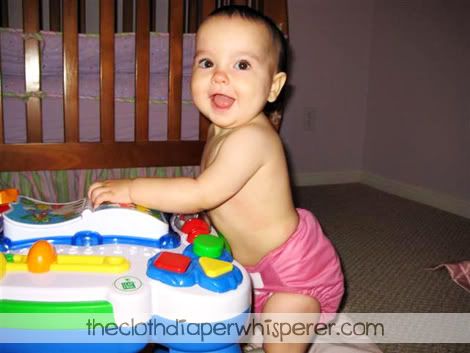 My least favorite diaper is our
Happy Heiny One-Size
. I really wanted to like this diaper since it has a snap closure. However, I have had several leaks with it. I think the fit just doesn't work well for my daughter.
My favorite bedtime diapers are the
Baby Beehinds Bamboo fitteds
with the
SuperBrites cover
. The
Baby Beehinds
are exceptionally absorbant and I don't have a strong pee/amonnia smell in the morning like what I did when we used our
BG 3.0
overnight.
So, while it is fun & exciting to try different brands/types of diapers, it is also possible to cloth diaper full-time with a smaller stash too!
- By Melissa