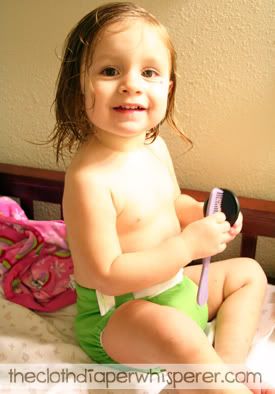 After receiving our winnings from our Fluff Friday win I didn't waste any time getting our new diaper in the wash. We had only used
Fuzzi Bunz sized diapers
or
Prefolds
with
Bummi's
so getting to try a new brand was super exciting for me. Especially since I was having some fit issues with our medium sized
Fuzzi Bunz
.
First of all the diaper we won,
Bum Genius 3.0 One size
is great for our diaper bag, it's easy to get them on and off with the Velcro and trim enough for most all of our outfits. The legs give her a nice and trim fit. I was having gaping issues with our current diaper. However; as well as this fits my 2 yro, this diaper wasn't as versatile for me as I had hoped. It does not fit my 3 and a half year olds for nighttime use.
I also received the
Planet Wise wet bags
. I fell in love with the bags the moment I saw them. The small one is perfect for a quick outing it fits one diaper. The larger size which we got in the black and white curly q print, super cute! Is great for an extended day trip or a weekend trip. I used the larger bag when we traveled away from home using our cloth diapers for the first time. It was perfect for the over night diapers, no smells. I'll be purchasing more of these lovely bags from
Kelly's Closet
soon.
-
Erin
L., mommy to Aynslee 3 and Avery 2