I have three different types of slings/wraps that I use. I really love all of them; yes I have my go-to one, but all three serve their purpose.
The adjustable sling:
Worn only in front, over one shoulder. I like using this one if I am running into the store quick because it is super easy to flip over my head and put her in. It does start hurting my shoulder after awhile though, so I keep it in the car for short trips.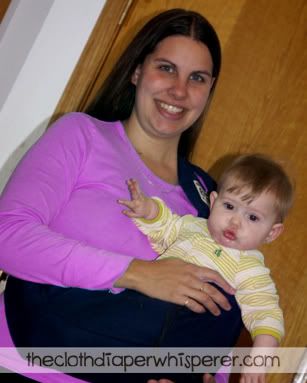 PROS:
* Easy to take on and off
* Can be rolled up small
* No tying or wrapping involved
CONS:
* Baby tends to slide into a ball when sleeping
* not very secure to your body
* Out grown fast
---
Moby type wrap:
As I mentioned on the post from earlier today, I do not have a Moby Wrap, but have one like it, and can be worn many different ways. I love using this wrap while working around the house. Your baby is very tight to you and you can bend over and feel as though your baby is safe. When my baby is really crabby I can put her in this and feel comfortable wearing her all day and she loves it. I use this one mostly in the house. It takes a little while to put on, but once it is on it is comfy for hours, trust me I have used it for many many hours. She is actually in it right now as I type. She is happy to be close to me and I can type without assistants.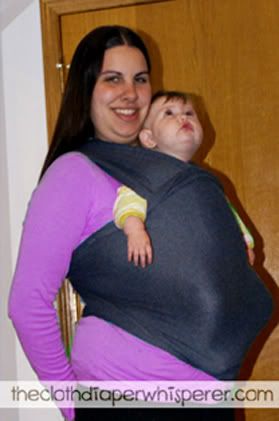 PROS:
* Can be worn many ways
* Works for newborn to pre-school
* Easy on the back, baby is secure to your body
CONS:
* Bulky to carry along
* Takes practice to put on
---
Mie Tie wrap:
can be worn either on your front or back. I like to use this one when going somewhere where I would need to hold her for awhile. Walking around the zoo and through the airport. It is more compact then the Moby type wrap and fits better in my diaper bag.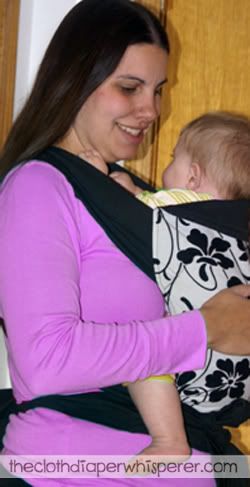 PROS:
* Very compact
* Easy to get on and off
* Can be worn both in front and on back
* Can be used newborn through pre-school
CONS:

* Not very secure to your body
* Need to make sure you have it tight or fabric can bulk in the front.