Like most pre-teen and teenage girls I thought tampons were so gross. I remember my girlfriends and I would talk about how we would never use tampons because,
"that's just WRONG!"
Thankfully I grew up and became more experienced. Learning about my body, how and why it functions the way it does, helped me understand; regardless of what menstrual method you use, nothing is "wrong."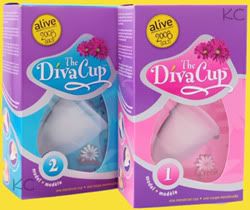 I learned about the
DivaCup
a few years ago shortly after the birth of my first daughter. I was very involved with my local La Leche League group at the time a local sponsor had donated some
DivaCup
products for our fundraising benefits. I researched it and then, well, SURPRISE, I was pregnant again – only 6 months after giving birth. Since I no longer had a need for the
DivaCup
I simply forgot about it.
Now, a few years later I rediscovered this phenomenal contraption and I'm not looking back!
It's truly astonishing how despite modernization and technology – some things that worked "way back when" are still better than what we have now. Cloth diapers are a prime example: someone modernized diapers and made them disposable; yet reusable cloth diapers are far better for our little ones and the environment than their disposable counterparts. Now, I concede – we have lovingly modernized cloth diapers from the days of old – but the point is what worked best for decades still works best now!
The same philosophy applies for the
DivaCup
. The menstrual cup was used for quite some time, dating as far back as the 1930's. Yet, we've moved on from cloth menstrual pads and these nifty little menstrual cups to disposable pads and tampons which are full of chemicals (not to mention the significant amount of waste they create as well).
I ordered the
DivaCup
after my last menstrual fiasco last month. And, to be completely fair I did a test run of the
DivaCup
and some "natural tampons" to see which worked best and to be objective. The
DivaCup
outperformed the "natural tampons" hands-down (I had leaks with the natural tampons) whereas I had no leaks with the
DivaCup
. In order to prepare for the leaks that are associated with the adjustment period (no pun intended) while learning how to use the
DivaCup
I also bought some
Swaddlebees Organic Cotton Velour Menstrual Pads
from
for backup (which are lusciously soft by the way) as well.
Thankfully, however, I was leak free (ok, so I had one itsy bitty leak on day 3 of using it, but that wasn't because I didn't quite turn it all the way to form the proper seal – so it was my fault). Since the
DivaCup
is made from a soft silicone material – these are hypoallergenic, soft and pliable, making them easy to insert and remove. I found this device comfortable from start to finish – and was better able to gauge when my cycle was almost finished so I could switch to cloth panty liners.
For those of you who've been on the fence about getting a
DivaCup
– here's a something to help ease your mind: While it's not as "simple" to insert as a tampon- it's certainly far more comfortable than a tampon. Once you figure out how to get it in right, you won't have to think twice.
The
DivaCup
is easily stored in your medicine cabinet or your purse (better yet, buy two and keep one as backup for those truly unexpected visits).
I can't believe it's taken me all these years to finally become a Diva! Now, I can say I'm a cloth diapering Mama Diva!