On our recent vacation to St.Barts I was so excited to use our swim diapers early then expected. In Maine the water just isn't warm enough to go swimming until the end of June.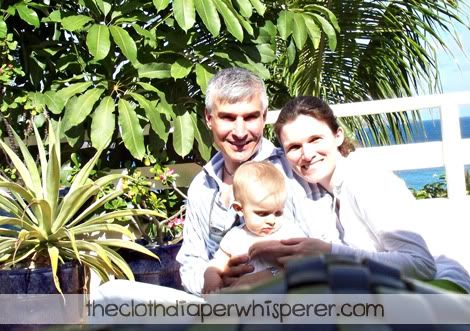 My 11 month old Riley just loves his baths so I was assuming he would love the warm Caribbean water (I thought wrong- keep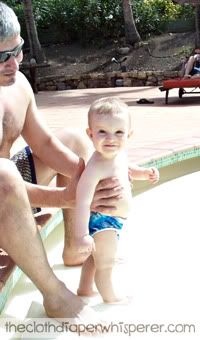 reading!) . I grabbed the
Imse Vimse Swim Diaper
in Size Large that we used at the
older kids birthday swim party in February
and went to the back room of the shop and pulled a
Bummis Swim Pant
in size Medium Sea Lions. Check...2 more items packed on my list.
Our first full day in St.Barts we woke up and had a wonderful breakfast. All sorts of homemade breads and croissants and the butter- was just divine! (No I didn't stay on my Weight Watchers diet!) After breakfast we went back to our room and changed. I put Riley in his new
Bummis Swim Pant
and we went to the pool which was overlooking the ocean. After finding a couple good lounge chairs with umbrellas to shield some of the hot sun and thoroughly applying the sunscreen Scott scooped up Riley and I trailed behind with the camera. Our little guy stood ankle deep in the pool and didn't want to go further. He just didn't want to go in...however I did get a couple of cute pics of him which was most important. I found the
Bummis
was very, very trim on him- like a glove. I am not sure in another few months he might try to pull it off as it does fasten with velcro but then again swim season in Maine is for only 2 months-June and July.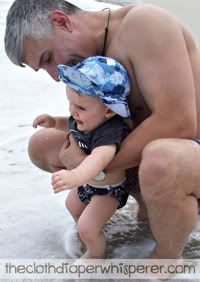 A couple of days later we went to a beautiful beach called Saline. This time Riley was sporting his
Imse Vimse Swim Diaper
in Black Lizard. He was in a size large which I really should have him in a medium. He now weighs just a hair over 20lbs. I do like that it is a pull on pant and wouldn't have to worry about him "stripping" off the diaper. Upon looking at the
Imse Vimse Swim Diapers
you would think that they are way to small but once you put them on your child you will see that they fit just wonderfully and are meant to have a more snug fit. Scott walked Riley over to the edge of the water and this time his sent out a screech. Wow..it was loud! There was NO way he was going into the water.
I think the
Imse Vimse Swim Diaper
will last longer as there are no velcro closures and it is better for an older baby/child who might be curious enough to try to "strip". The
Bummis
is more ideal for a newborn to infant right before they realize there is velcro to play with. So essentially our experience with swim diapers had no water action (LOL!) involved but at least I now know how each on fits!
This summer have fun at the beach, pool, or at my house--the bath tub!!!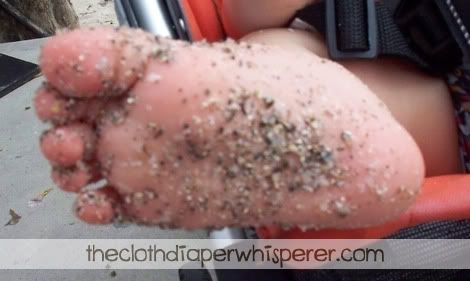 - By Kelly