I had one swim diaper that I got when my oldest started getting on the water at 6 months old to save money. I would always use that diaper under her bathing suit (it wasnt cute enough to be uncovered), and when I needed, I would use disposables swimming diapers... By that time, I was a full time disposable diaper user, which Im 100% was because nobody ever mentioned me cloth diapers...

That same cloth swim diaper was used by my second daughter, and then my third daughter. However, it was not working fine with my third daughter. My first two daughters were very chubby, however my youngest is very skinny... It was too bulky to put it under her tiny bathing suits, and it was too ugly to use it by itself (Ok, I have to be fair, it was not *that* ugly... I just think that it may have looked better on a boy).
Anyway, I was planning a weekend away, plus a 7 days vacations the following week with my hubby and girls, so I decided to order a couple of
Imse Vimse swimming
diapers from
Kelly's Closet
and get a top for them.. .They looked soooo cute that I didnt want to cover them!!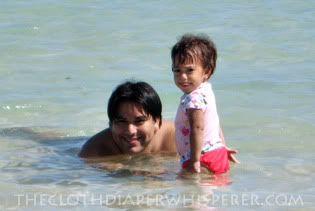 We decided to get a solid red and a Turquoise Sea Animals, both in size large. My daughter is very skinny and very petite. As she was 23 pounds, I decided to go with the large size. When I first got them I thought they were soooooooo small that wouldnt fit her. I was wrong!! They not only fit her, but Im also 100% sure that the medium size would have been better for her. Im sure the large size would be perfect for a chubby 23 pounder, but if you have a very skinny child like mine that is 23 pounds or under, you may want to consider the medium size.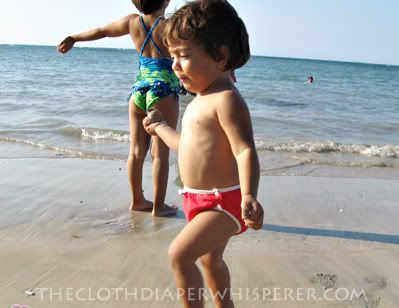 My middle girl is also petite but chubby. She was around 32 pounds, and even though she is already potty trained, I decided to try the
Imse Vimse swimming diapers
on her, and they actually fit her. I would still have gotten an Extra Large for her if she needed one, but the large size still fit.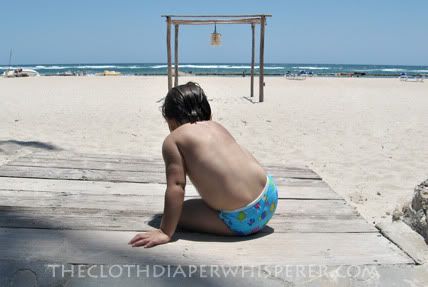 Both of my daughters were very comfortable on their swim diapers, and even though I didnt want to cover them, they are trim enough to cover them... Even with a tiny swimming pant....

I also wanted to mention that they dry VERY fast, however I dont think it would have been that easy with only one diaper... We managed just fine with two, but I think three diapers would have been just perfect.
- by Anelys