It has taken me a little while to figure out what works best with cloth diapering 2 – my oldest is 22 months and my youngest is 8 months. I finally came up with a great plan that does the trick for my family.

My laundry room is across from the boys bathroom so I keep the
diaper pail
right inside that door so after a quick spray from the wonderful
diaper sprayer
( I can't imagine how I made it so long without one) I just take a few steps and it's in the laundry room. I would highly recommend having at least 2
large diaper pail liners/bags
. I only had one for a while and it wasn't the best. Once I got my second one – I placed the dirty one in the wash with the diapers and the other was immediately placed in the pail and ready for more dirty diapers. (I used to just put the dirty ones in a big tub while waiting for the one and only diaper liner to wash and then air dry.)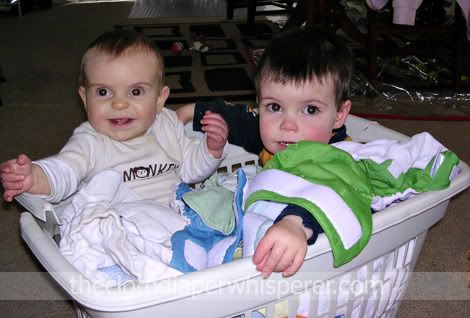 I have enough diapers to do laundry every other day – with a few exceptions. The boys are almost in the same size for all the diapers except for a few of the
AIO's
and the
BG's
that we use for nighttime. Once the diaper are clean and dry I usually just throw all the clean diapers on top of the washing machine and fold them and put them in the boys room's right away or as soon as I can. It goes with my personality of why do later what I can get down now and can cross off my list.
Each boy has a spot in his room for where the clean diapers are kept– I stuff all the
pocket diapers
and make up all the prefold's with covers after they are dry so all I have to do is go and grab when it's diaper changing time, that way I'm not trying to either stuff or lay a prefold out on a cover with a squirmy one on the changing table. Honestly – it doesn't take that much more time at all and it might sounds crazy but I would rather stuff
pockets
or fold up
prefold
's then fold baskets of regular laundry. Our system works so well that even daddy does diaper laundry too.
- by Nancy H.