One of the most common reactions I get from people when I tell them I use cloth diapers (after "Eew!") is: "Isn't it an awful lot of work? I mean, all that laundry..." The answer is of course no, it's not much work at all. Certainly a lot less "work" than I'd have to do to afford disposables. The wash and care routine did take me a long time to develop though.

When I decided to try cloth diapers I didn't know anyone else who had used them in the past twenty-five years or so. I bought a couple of
fitted diapers
on a whim one day while I was checking out a local consignment store. I had no idea how to care for them, so I asked the owner of the store and she very helpfully wrote me out some detailed instructions.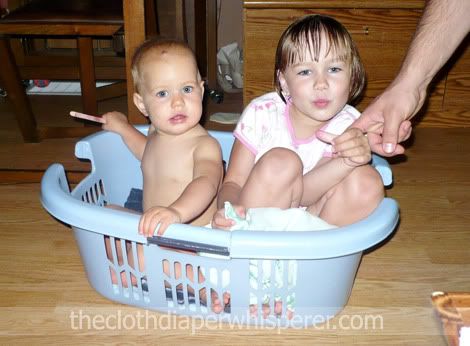 Considering the fact that those instructions directed me to fill a wet bucket with cold water and vinegar, rinse diapers by dunking them in the toilet and use the strongest detergent I could find and bleach once a week, it's pretty surprising that I stuck with cloth diapers at all. I knew I wanted to move away from disposables though, so one day it finally occurred to me to type "cloth diapers" into a search engine to see if there were any other options and the world of modern diapering opened before me. There were far better diapers out there than the ones I was using, that's for sure! There were also some handy links for How To Care For Cloth Diapers, but more importantly, there were forums and groups for cloth diapering parents in places like Facebook where you can ask questions and get dozens of suggestions, ideas, answers and opinions. Apparently no one else had a big bucket of stinky diaper stew brewing in their bathroom, how interesting! After months of experimentation I have devised a system for washing cloth diapers that works perfectly for me and my family. I will share it with you now in the hopes that some poor clueless newbie will be able to learn faster than I did:

-
In my bathroom
, which is within arm's reach of the change table in my daughter's room, I have two cheap plastic trash bins from Wal-Mart with locking lids. I put
fitteds
,
prefolds
,
inserts
,
wipes
and
doublers
in the larger one and PUL
covers
and
pockets
in the smaller one to prevent them from trapping smells.
-
Wet diapers go straight into the pails
. Dirty diapers either have
disposable liners
removed and flushed or they are shaken over the toilet and rinsed under the foot-wash faucet in my shower. I never got around to buying a
diaper sprayer
, although I'd love one! Sometimes I spray them with
BumGenius Odor Remover
.
-
I don't use pail liners.
Every three days I dump both buckets into the washing machine and give them a cold rinse, then a hot wash with a bag of soap nuts or some Purex detergent and sometimes a few drops of tea tree oil, then a rinse.
-
Every so often
, if my diapers seem a little dingy or smelly, I put a scoop of oxy cleaner in the wash cycle.
-
If the pails get smelly
I rinse them out with water and a drop of tea tree oil while the diapers are washing.
-
When the weather is nice
I hang everything out to dry in the sun after running a quick tumble fluff cycle in the dryer to soften them up a little.
-
When line drying isn't an option
I hang
covers
,
pockets
and
AIO's
on a drying rack overnight and dry everything else in the dryer on medium heat with a few dryer balls.
-
When everything is dry
I pre-stuff my
pockets
and sort it all onto the change table shelves.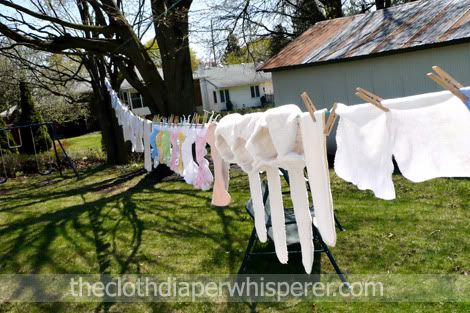 Basically it works out to two extra loads of laundry a week and maybe twenty minutes of folding and putting away (More if my nineteen month old wants to "help"). It's barely even noticeable since I'm doing laundry for six people anyway. I certainly wouldn't call it an inconvenience, and nothing smells as good as clean laundry hung to dry in the sunlight.

- By EdenSky