When I began cloth diapering, I pretty much came up with a "game plan" for how I was going to care for the diapers before they even arrived in the mail. I did my research and asked lots of questions so that I could gather up everything I would need to get the ball rolling upon their arrival. Country Save...check. Dawn & Bleach for stripping as needed...check. A plan for storing dirty duds...check.
I originally started out w/
Bum Genius One Size diapers
(POCKETS). However, I recently acquired the
Bum Genius Organic Diapers
which are also One Size, but they are more like All in One (AIO) diapers because the insert is sewn in. Though I'm currently only using the All-in-ones now, I wanted to share my routine including both types of diapers because my routine is pretty much the same for both.
The system I came up with is what we have used since the beginning w/ only a few minor tweaks along the way. Upon removing the diaper from the baby's bum, here are the steps I follow...
PRE- WASH DAY
1.) We toss the
Bummis BioSoft Flushable Liner
into the toilet. (This brand will not hold up in the wash like other brands...but they are SO much softer).
2.) I rinse the wipes and squeeze them out.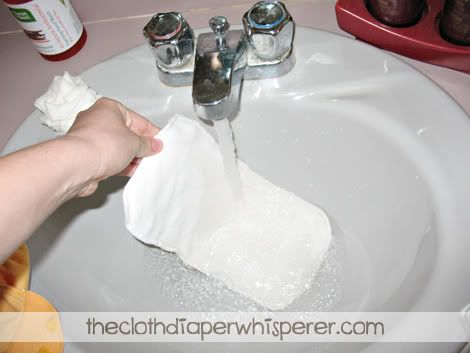 3.) Then we remove the insert (POCKETS), rinse it under hot water for a short wile and then we roll it up, squeezing out the excess moisture along the way. (This is just my personal preference...to reduce the odor as well as reduce the ammonia gases that can build up between washes). If any poo got onto the pocket, I simply rinse it clean under the faucet. For the AIO, I just rinse the entire diaper, turn upside down and squeeze.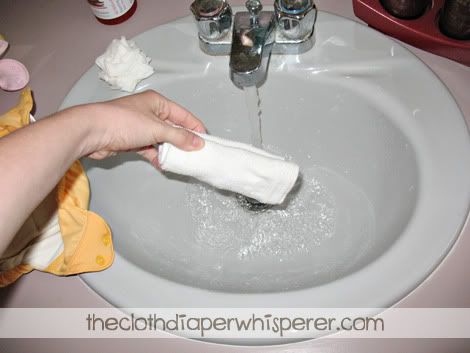 4.) Then, I toss everything into the washer. (This is what I use as my "wet bag"). Believe it or not...we almost never have odor issues in the laundry room.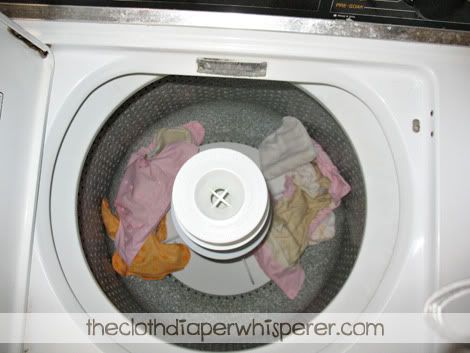 5.) I return to the bathroom and quickly wipe the counters & sink down to sanitize them and then I wash my hands w/ an all natural antibacterial cleanser.

***If a barrier cloth was used due to ointment application, I rinse & squeeze it out and toss it into a small basket next to the washer so that I can wash them separately.***

This may seem like allot of steps but, in reality it takes about 3-4 min. tops. And, at this point you may wonder how I get laundry done w/ my washer tied up as a diaper pail. Basically, I do laundry every other day just like the diapers...I just do it after the diapers are done. There's really nothing to it.

WASH DAY
So, my diapers, doublers & wipes are already in the washer...ready to go. My wash routine is really simple...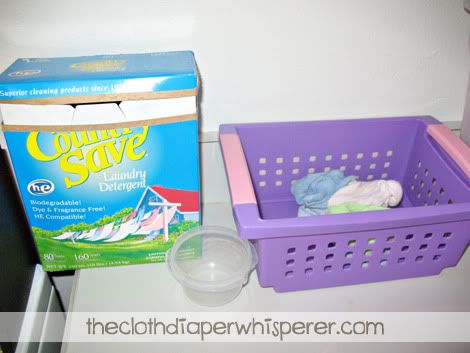 1.) Cold Wash Cycle w/ Country Save

2.) Hot Wash Cycle w/ Country Save

3.) Cold Wash Cycle - Water Only.

*I discovered that my machines "rinse" cycle was only filling the machine w/ water, let set for about 5 min, drain and spin....I felt like the diapers needed to be agitated in the water to truly get rinsed, so I just run the full wash cycle.*

4.) For drying, I would hang the POCKETS on a drying rack and toss the inserts, wipes, AIO & doublers all into the dryer and set to the medium setting. ***I have heard of many people also air drying the AIO's but, from my research, I discovered that they fluff up and have more absorbency when tossed in the dryer...just like the inserts to the POCKETS.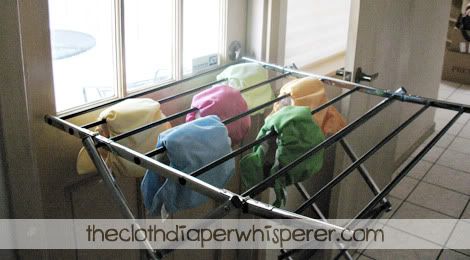 ALL FLUFFED UP AND READY TO GO
Once everything is dry I wet the wipes and put them in the wipe warmer.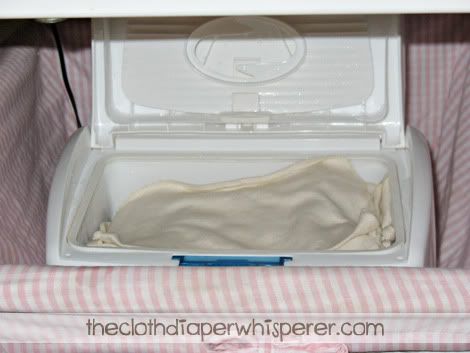 With the POCKETS, I would turn on a TV show or DVD while the baby was sleeping and stuff the diapers, place a flushable liner inside. With the AIO's I simply place a
flushable liner
inside and they are good to go! I love when my diapers are ready to grab and go.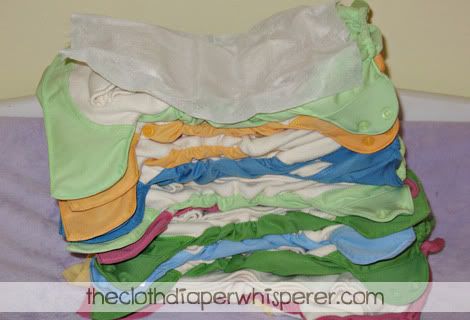 And that's it...my routine from beginning to end. Many people have a routine that works wonderfully for them and their family and this is what works wonderfully for us.


- by Amanda G.