Cloth diapering is not exactly common where I live. I don't have any friends or family members who use cloth and most people are pretty surprised when they find out that I do. Over the past eighteen months I have gotten a lot of different reactions, for some reason it seems to be a case of extremes: Either people think it's fantastic, or they think it's disgusting, but everyone has an opinion.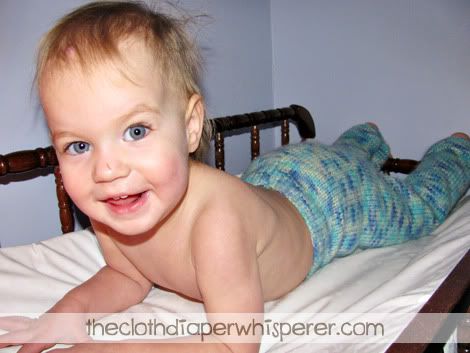 My mother in law thinks it's great. She used cloth diapers on her kids and she was excited to see how far they'd come over the years. She's perfectly happy to use my pocket diapers when she babysits and she even washes them and sends them home clean. She likes the economic factor as well as the lack of garbage created. My own mother was less enthusiastic. When I told her I was starting to use cloth diapers she laughed at me. She told me it would be messy and smelly and just an awful lot of work. I was a part of the first Disposables Generation and my mom had changed only a couple of cloth diapers in her life. Of course those were the old fashioned flat folded diapers, held on with pins and covered with hot sticky rubber pants. Once she saw my
Happy Heinys
and
BumGenius
diapers she conceded that they were pretty neat, but she's still not completely won over.
Younger people are equally divided. I was babysitting for a friend and I would use my daughter's cloth diapers on her baby whenever she was at my house because I didn't want sposies piling up in my garbage and I knew they were having trouble making ends meet so I thought I'd save them a few diapering dollars. My friend thought it was a great idea, but she had no intention of switching to cloth herself. One day I forgot to put that baby back into a disposable diaper before she went home and within half an hour my friend called me in a panic because the baby had pooped and she had no idea what to do. "Oh that's so gross! How on earth do you clean it?" I found it funny, and a little sad at the same time to see how dependent people have become on disposable diapers. Some people just dismiss the idea entirely. The strangest reason I hear for this comes from people with more than one child in diapers. They say that it would be alright for just one baby, but far too much hassle with two or three. I would think the more babies you have the more reasons there would be to use cloth! On the other hand I have had several new and expectant parents express a lot of excitement when they see my daughter's diapers. Most of them have never considered using cloth diapers and know nothing at all about it. They usually have many questions and I am only too happy to explain why I use them, although I never try to "convert" people unless they show a genuine interest.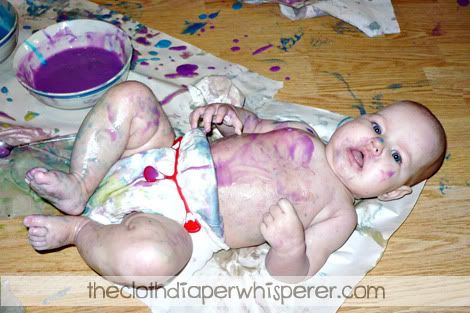 I tell people how easy it is to use and wash cloth diapers these days. I tell them they can save thousands of dollars and prevent tons of garbage from ending up in landfills. I tell them about the possible effects of disposable diapers on a baby's health from cancer, lowered sperm counts and asthma to diaper rashes. I tell them about the dangers of ground water contamination from human excrement being thrown in the garbage instead of treated as sewage. Every so often someone will say "But aren't you wasting a lot of water?" So I tell them how much water is used in the manufacturing of disposable diapers, and how many chemicals, and how much petroleum, and how washing cloth diapers requires about as much water as a person would use in a day for flushing the toilet anyway, and how a biodegradable detergent prevents water from really being "wasted." I tell them how many hours I get to spend with my kids instead of having to be at work, earning money to throw away on diapers. I show them how astoundingly cute they are, and some of them have decided to use cloth diapers themselves.

Some people smirk and call me crunchy or weird. I had a home birth. My partner is a holist. Obviously we're doing this because we're hippies or something. But more and more perfectly normal, mainstream, modern parents are using cloth diapers these days and people are smirking less and less. Hopefully some day they will stop completely as people gain a greater awareness of themselves, their environment and surroundings and more people will find the joy of cloth diapering.


- By EdenSky