Earth Mama Angel Baby
manufactures the most complete line of products for the entire process of birth -- pregnancy, labor, postpartum recovery, baby care, breastfeeding and even the loss of a baby. The products are created by an herbalist, nurse and mother who saw the need for safe, toxin-free products that are also effective.
Our products are created to support the entire process of birth naturally. We think of pregnancy not as an illness but as a phenomenal process that has many wonderful and sometimes difficult stages. Supporting that process naturally, with gifts from the earth, makes sense to us.
Earth Mama Angel Baby
is one of only 6% of compact signers of the Campaign for Safe Cosmetics who is actually compliant with all stages of the compact.
We use the highest-quality, certified-organic or organically grown herbs and oils for our teas, bath herbs, gentle handmade soaps, salves, lotions and massage oils. Our products are 100% toxin-free, cruelty-free, vegan, and free from all artificial preservatives, fragrances and dyes.
Our commitment to honor the earth and her valuable resources extends to our packaging as well - we use only eco-friendly recyclable or reused/resuseable packaging and packing materials. It's true - we are even the proud recipients of the BRAG (Business Recycling Award Group) for our green practices.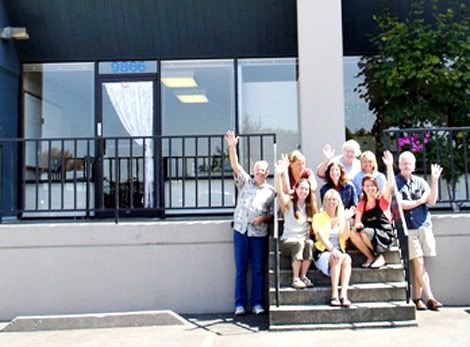 1. Who is Mama? Mama is not just a marketing logo. She's a nurse, herbalist, and real mother who believes mamas and babies have a right to pure, safe, effective products.
2. Research and Education. Mama's mission is to constantly research, test and refine her products, and educate people about the safe use of herbs and ingredients in personal care products.
3. Safe and Worry-free ingredients. All of Mama's products are safe, with organic herbs, no toxins or hidden ingredients, and are vegan, lanolin-free, with no bee products and no nut oils.
4. Clinical Testing. Angel Baby Shampoo & Body Wash, Angel Baby Bottom Balm, Natural Nipple Butter, Angel Baby Lotion and C-Mama Healing Salve™ are clinically proven to be non-irritating and are allergy tested.
5. We Win Awards! Earth Mama Body Butter was voted "Best Stretch Mark Cream" in Natural
Solutions Magazine's Beauty with a Conscience Awards, and our line of teas received the New Product Showcase Award at the Natural Products Expo East.
6. Campaign for Safe Cosmetics. EMAB is one of only 6% of compact signers of the Environmental Working Groups' Campaign for Safe Cosmetics who complies with all levels of compliance.
7. Pure, Organic, Natural. Our ingredients are the purest available. We use the highest quality organic ingredients and herbs unless the herb or oil is not safely, sustainably available organically.
8. Sustainable. Every decision we make incorporates environmental concerns from our clever packaging, to the herbs we use, to the t.p. that hangs in the company loo! We even have a BRAG award for our green packaging practices.
9. Why? Because we believe that pregnancy is a natural condition, not an illness. And that the common discomforts of pregnancy, labor and breastfeeding can be naturally supported using gifts from the earth. Purely natural, naturally safe.
---
Here are some of their products... Click on the links for a description of each one:

Pregnancy Products
•
Happy Mama Spray

•
Morning Wellness Tea (Box)

•
Natural Stretch Oil

•
Earth Mama Body Butter

Postpartum

•
Postpartum Recovery Kit

•
New Mama Bottom Spray
•
Earth Mama Bottom Balm

•
Monthly Comfort Tea

•
Postpartum Bath Herbs
•
A Little Something For the New Mama

•
C-Section Healing Kit
•
C-Mama Healing Salve
•
I Love My Mama™
Breastfeeding

•
Breastfeeding Support Kit
•
Natural Nipple Butter

•
Booby Tubes

•
Bosom Buddies

•
Milkmaid Tea (Box)

Angel Baby

•
Angel Baby Kit
•
Angel Baby Bath Blossoms

•
Angel Baby Bottom Balm
•
Angel Baby Oil
•
Angel Baby Diaper Rash Soap

•
Angel Baby Shampoo & Wash

•
Angel Baby Lotion

•
A Little Something For Baby
•
Deluxe Angel Baby Gift Basket
Healing Hearts Baby Loss Comfort
•
No More Milk Tea