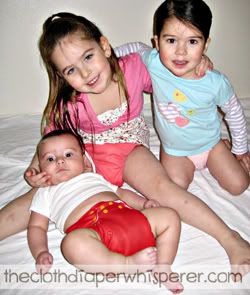 Feeling the LOVE!
Many people consider cloth diapering old-fashioned, out-dated, or just plain icky. My own mother, who cloth diapered my oldest brother, tried convincing me I would hate cloth diapering.
"It will make your whole house smell."
My mom knows me well; she knows exactly how much I detest messes and smells. She figured this tactic alone would discourage me from cloth diapering. However, unwavering in my desire and decision to cloth diaper I assured her I was comfortable with my decision. She remained cynical, simply saying,
"Okay, we'll just wait and see."
Initially, I started cloth diapering with
bumGenius One Size Pocket diapers
. I also purchased some used prefolds and covers because I wanted to be able to save my pocket diapers from all the excess wear and tear in the early weeks when my little guy would be a mean little poo'ing machine!
Although for the first several weeks I was predominantly using prefolds and
Thirsties covers
, I most recently starting showing my pocket diapers some much needed love and attention. I love the rainbow of colors and various prints to choose from. If my son is wearing a multiple-blue stripped shirt or romper I can put him in a
Blue Blueberry One Size diaper
one moment and a
Twilight bumGenius One Size Pocket diaper
the next. Hot outside? Then he'll be sporting a white t-shirt with a
Cow print Happy Heiny's One Size diaper
and a Monkey print diaper the next. (I'm also looking forward to the new
Turtle print Bumwear One Size diapers
I ordered after seeing how cute they were on
Katrina's son in last weeks post
!)
Having used disposable diapers I can say with certainty, changing a disposable diaper is absolutely no fun. It's a long standing joke between men and women about who should change the dirty diaper… With cloth diapers, I honestly look forward to the next diaper change! Of course, I'm not doing a happy dance when my little guy poo's – but I'm certainly not dreading the diaper change! It truly is a lot of fun to decide on which color, print, or even style of diaper I'm going to put on my little man's bum. Whether I want to take a little more time and put on a prefold and cover or I need to change the diaper in a jiffy and I reach for a pocket diaper – I've got plenty of options to keep things interesting!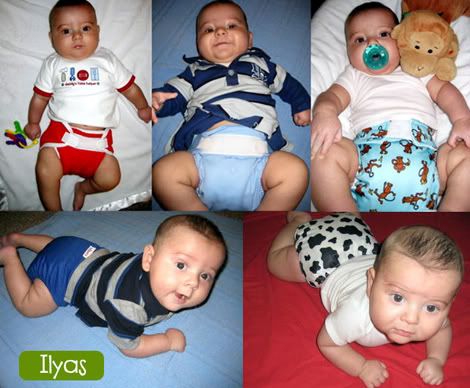 Additionally, I love having the freedom to change my son as frequently as I want without worrying about tossing money in the trash. I feel ashamed to admit this, but when I used disposables on my daughters I would oftentimes leave them just a little longer because I truly believed (and still do believe) disposables were a waste of money.

I wanted to cloth diaper because I knew deep-down it was more natural and healthier as well as economical. I never imagined I would love it as much as I do. My husband thinks I'm hilarious! With a hearty laugh he asks, "You write about poo?" However, considering he grew up in a country and time when cloth diapering was the only way to diaper, it's hard for him to understand and appreciate the need for our rapidly growing cloth diapering community.

I genuinely LOVE cloth diapering and clearly, talking about it too! It's healthy. It's economical. It's eco-responsible. Most importantly (to me) it's a LOT OF FUN!
- By Serena