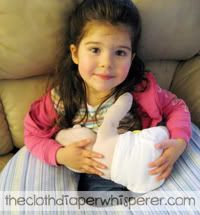 While I'm not a biggest
granola bar
in the pack, I do enjoy living a healthier, natural lifestyle, and thus enjoy teaching my children the same. Since children are little sponges, absorbing everything we do (and sometimes more than we wish they would), this task is quite easy to do. My tried-and-true method has always been teaching by example.
I'm typically able to give my daughters some much needed attention while educating them but having fun at the same time. Encouraging them to sit down with me on the couch to nurs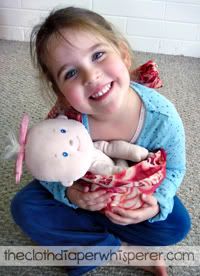 e their dollies while I nurse the baby while enjoying a book, or having them change their dollies while I change the baby's diapers. I also use my extra scarves as slings so they can wear their dollies too, just like mama wears the baby while we're grocery shopping or at the store running a quick errand.

Given that we use cloth diapers, it's only natural for my daughters to want to cloth diaper their cloth dolls too! While I have yet to break down and order those wonderfully cute dolly diapers, I've given them a few old inf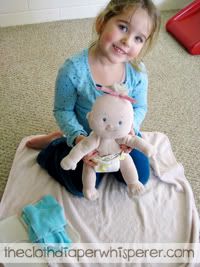 ant prefolds to use on their dolls along with a couple Snappi's. This also reinforces the idea that, regardless of what type of cloth diaper you use, cloth diapering is lots of fun!

I also allow them to bring their dolly strollers with them to the store from time to time (especially when I need to prevent them from running around like hooligans). Naturally, everyone just adores how cute my two little mommies look pushing their doll strollers through the store.

Of course this has also led to other less than desirable messes – such as the time when my girls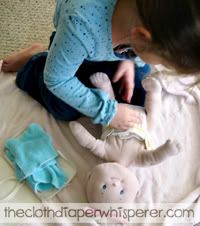 decided to give their dollies a bath in the sink. [Keeping in mind they have cloth dolls and stuffed animals, so those make a BIG mess when they're soaking wet]

My oldest daughter Aaliyah oftentimes gets frustrated with her "littleness" and says, "I want to be big like you." It is at these momen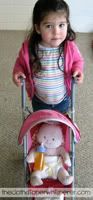 ts when I try to persuade her that one day she will be. In the meantime this is her time to play and learn by practicing how to do all the "BIG" things like mama does, such as cloth diapering, breastfeeding, etc…

Teaching and encouraging these natural alternatives, in spite of the disposable and convenience-based world we live in, reinforces the likelihood that our children will follow in our footsteps.