As cloth diapering mommies, we all know how important having the right diaper bag can be. But, when I purchased my first bag (before my daughter was even born) all I knew about diaper bags was that I wanted it to match my travel system. Looking for functionality never even occurred to me. Once I started taking trips out of the house with my daughter, I quickly began to realize how un-functional was the diaper bag that I chose.

While there were indeed allot of pockets in the bag, the changing pad took up most of the interior room and of course, being a first time mommy I felt the need to carry MANY "just in case I need it" items....actually, I still do....I like to be prepared. And I'm not into carrying multiple bags around so, I also put my wallet and some personal belongings into the bag. So it was a tight squeeze and trying to quickly fish a diaper, wipes and ointment out of a tightly packed bag with one hand and holding a wriggling, crying baby with the other proved to be difficult and stressful. (We were not even using cloth yet). Often times the bag was so full I could not even pull the zipper closed, causing contents to fall out on a regular basis. Then, (due to unfortunate medical reasons) I had to quit nursing my daughter and so bottles and formula dispensers were added to my list of things to toss in my bag. At that point I HAD to get a new bag and fast!

Before setting out to get a new bag I sat down and made a list of the must-have features that I wanted in my bag:

*Outside pocket for changing pad
*Roomy Interior w/ lots of pockets...and I mean ROOMY

*Exterior side bottle pockets
*Strap long enough to hang bag over the stroller handles.

*Something chic & trendy...NOT babyish.
*Metal feet to help protect the bottom from excessive wear and tear.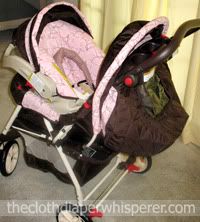 Amazingly, when I arrived at the store, the first bag I saw had all of my must-haves and a huge bonus...it was pink and brown...like my stroller/travel system. It was the Carter's All the Works Diaper Bag. I still perused over the other bags they had to offer just to make sure I was not making an impulsive decision. Then I removed all of the contents from my diaper bag and put them into the carters bag to test it out. Oh my goodness!!!! I managed to get 2 bottles, 5 diapers, 1 formula dispenser, a large wallet, a wipes case, rash ointment, teething tablets, hand sanitizer, infant Motrin, infant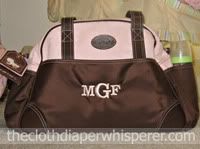 Tylenol, infant gas medicine, lip gloss, Neosporin spray, sunblock, extra bottle liners (Playtex drop-ins) a burp cloth AND a change of clothes all into the bag...ALL easily accessible w/ out having to take something out to get to an item. AND there was still some room. It also came w/ a matching wet bag for dirty duds & an insulated bag (which I never really used). I was sold....it was the perfect bag!
When I first purchased the bag I took it to the mall and had my daughters initials embroidered onto the front of the bag so it looks very "Pottery Barn Baby chic" without the Pottery Barn Baby price. And when she is older this bag will make a great little overnighter bag for her if she ever stays over at Grandmas, a cousins or a friends house for the night. So, I figure that I will get more than my moneys worth out of this bag.

Several months later I became a cloth diapering Mama and the bag still remains more perfect than ever. I can fit everything mentioned above in addition to 5-6 cloth diapers & a cleansing spray (which I use after poopies to freshen her little bum). And now that my daughter is older, sippy cups have taken the place of bottles and snacks have taken the place of the formula dispenser.


It's like Mary Poppins bag...I could just keep pulling items out of my bag because it holds SO much. As you can see in the picture, there is still room at the top of the bag....no problems zippering this bag.

Now that I have been learning how to sew, when we have the next baby, I will be making my own diaper bag with all of the great features I love. In fact, I just hosted a baby shower for my cousin and my gift to her was a diaper bag which I made....with a matching wipes case and changing pad. I loved it so much I was tempted to keep it. But....it doesn't match my stroller...LOL ;) Here is what her bag looked like....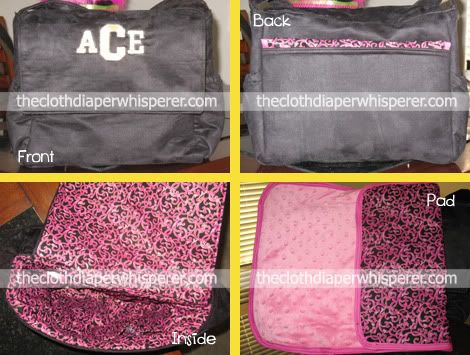 - By Amanda G